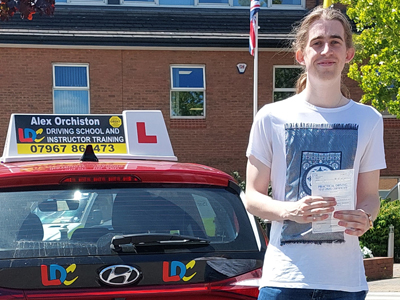 Callum Griffin
Passed 1st time
For one reason or another I always had it in my head that I'd be a hopeless driver. On top of that, finding an instructor that I'd get along with seemed really daunting, so I pushed back learning until I really couldn't afford to any more. Thankfully, my girlfriend recommended Alex, who'd taught her to drive, and suggested that I ask to see if he could fit me in for some lessons. This turned out to be a brilliant decision. Alex managed to make most of my nerves melt away, and learning to drive became an absolute pleasure. I had it in my head that driving instructors were intimidating, but he's a really genuine, funny, and approachable guy who felt more like a friend than a teacher.
From the start it was clear that Alex genuinely cared about his pupils. Aside from being a fantastic instructor, he'd ask about my day and how I was doing, what frame of mind I was in, and we'd have a little chat to ease the nerves before each drive. I'd heard tales of driving instructors berating their pupils if they made an error; none of this here, if something went wrong, we'd pull over and talk honestly about it, then plan how to avoid it next time. The lessons were well planned and the perfect length. The course is set up so that you can face each obstacle voluntarily and when you believe you're ready to do so, so there is no being pushed into attempting something you don't think you can manage. As a once very nervous and now confident driver, I simply cannot recommend Alex enough. If you don't live in Nottingham just move there just so you can learn with him!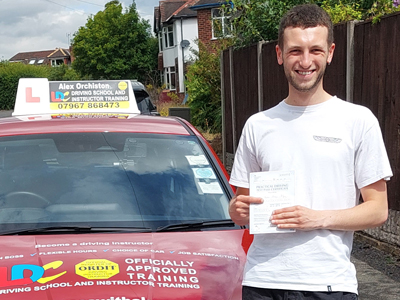 Jamie Rigby
Passed 1st time
Tremendous Thursday for Jamie Rigby of Chilwell. It has been a long journey for Jamie after a cancelled test previously. Great drive Jamie and stay safe on the roads and don't forget to wave.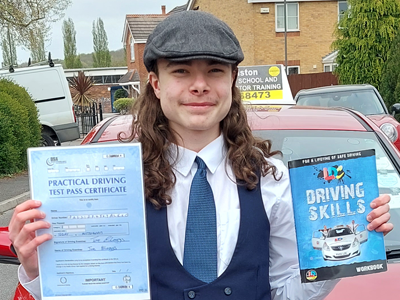 Nathaniel Bradford
Passed 1st time
From start to finish, Alex has helped me tonnes with learning to drive. He was incredibly supportive, even when I flustered myself over a mistake he would give me the time I needed to pull over, calm down and reset. He's been very patient, an excellent instructor and he helped me pass my test first time despite my case of Autism and ADHD. I will actually miss learning to drive with Alex.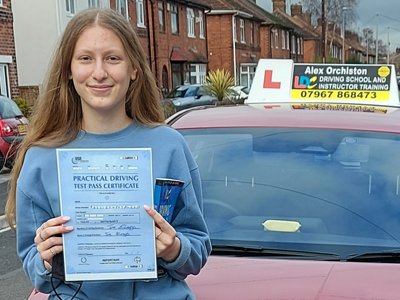 Abigail Merin
Passed first time
The best driving instructor I could have asked for. Always super patient and was happy to explain things how ever many times I needed it. Taught me to drive at a really high standard, the LDC workbook was also really useful and gave me a clear focus for each lesson. Would definitely recommend Alex to anyone learning to drive !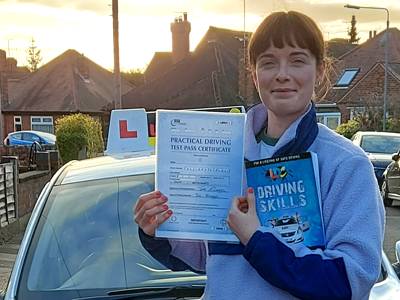 Sopie Oreilly
Passed 1st time
Alex is a great driving instructor, he's calm and understands that everyone learns differently! With his help I passed first time and I couldn't have done it without his help. 5 stars!!!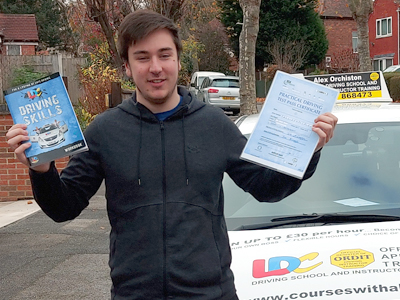 Jake Bottomley
1st time pass
Alex from LDC Driving is a great driving instructor. His methods of teaching provided plenty of practical experience along with the theory too back it up. His lessons have also helped me get through my test with ease, 10/10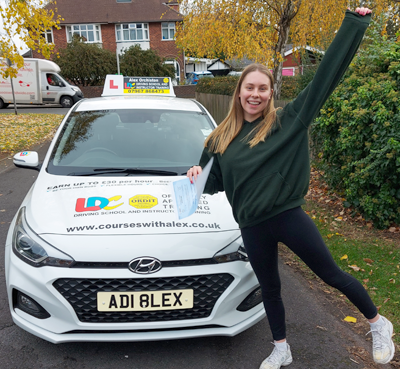 Evie Heathfield
1st time pass
I enjoyed my lessons, Alex was very informative and patient which helped me to pass first time.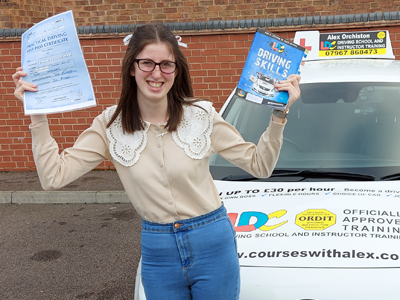 Maegen Pratt
1st time pass
Thank you Alex for being my driving instructor and helping me pass, and 1st time as well. I still can't get rid of the smile off my face and yes, I finally believe in myself that I CAN DO IT! I came to you having already had 5 lessons with another instructor elsewhere, who completely shattered my confidence and made me believe I'd never be able to master learning to drive. As with anyone, the moment you get to drive home for the first time is a day we all get excited for. It took me the first lesson with you, even if it did take a bit of persuading and encouragement on your part, but I DID IT! Especially having been learning to drive throughout this whole COVID pandemic ordeal, your lessons gave me something to look forward to every week. You let me take the lead with the lesson structure where I wanted to do so, as well as guiding and informing me when I wasn't sure of what to do next, the benefits of the LDC learning system! I just wanted to say I appreciate you putting up with all the shouting (at myself) I did when the car ("I") did something wrong. You kept me calm and collected throughout every lesson and even up to the moment I drove the car for the final time on test day (I'm sorry for the VERY early morning test). To anyone looking for a driving instructor to take lessons with, I couldn't recommend anyone more than Alex (in fact, I already recommended him myself to everyone I know wanting to learn to drive in the area, and am slowly convincing all my friends to learn to drive because of the experience I've had with Alex). He has been the most approachable, funny and helpful driving instructor and even little things such as your little children's cars to help explain something and your sticker dots to help with manoeuvres, you've really thought of everything to make learning to drive as easy as possible I can't thank you enough for your time over the last year, but it has been much appreciated!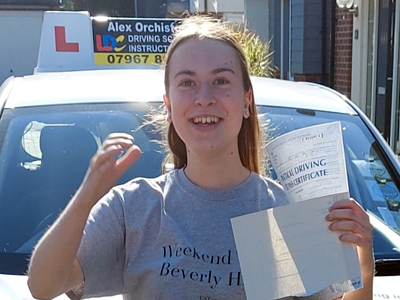 Katie Edwards
Passed 1st time
My driving instructor was Alex Orchiston, he helped me pass both my theory and practical test first time. He ensured all COVID guide lines were followed and made me feel comfortable whilst driving. Couldn't recommend anyone else to help pass my test!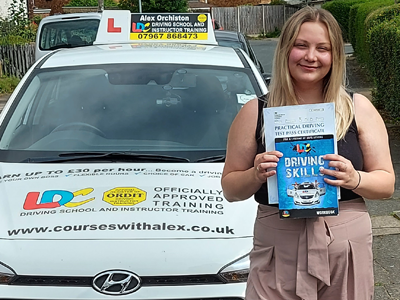 Keighley Foster
Passed 1st time
I passed first time with Alex and I'm very happy with the quality of lessons I had and would definitely recommend him to anyone looking to have driving lessons. He was always calm with me and every lesson was well paced, and he also allowed me to focus on any driving skills I wanted to do. The LDC system was really helpful in practicing for my theory test.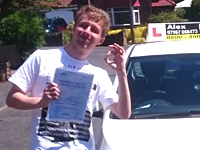 Shaun Preston
Passed 1st time yipee
I learnt to drive with Alex for 13 months throughout and overall it was quite an enjoyable experience. Right from the get-go Alex pushed me to move forward and advance with my driving skills - however he took on board all requests and feelings i had at the time and backtracked if need be to affirm my confidence in any areas I felt unsure on. He steadily built up my confidence by using his well experienced and in-depth knowledge of Nottingham via choosing routes and roads that matched my driving ability at the time, all leading me to pass my test 1st time round. It is easy to build a friendly and respectful relationship with Alex which helps ease you into the driving world. I would recommend him to you wholeheartedly.
Luke - Chilwell
I would quite happily recommend Alex to anyone, and it's all thanks to him that i passed first time! I was naturally expecting the worst but he gave me enough confidence to get through it, despite passing, i still recieved some constructive critisism afterwards which was nice! Alex is a great guy who's very patient and is great at analysing what could be improved in your driving, in my case hazard awareness (or awareness of whats going on in general). Competitions involving who could spot speed limit signs first etc were very useful . Thanks again, Luke.
Kenny
I passed the driving test on the 6th of may..thanks u Alex...Alex is a good instructor. my english is not very good so sometime i didn't understand what he said. but he is so patient to explain everything what i do not understand. so i recommend him to everyone who wants to learn to drive....
thx u again Alex
Jack
Hi Alex, thankyou again for helping me pass my driving test! Not only did you teach me to pass the test but you also passed on a lot more of your driving experience than any of my friends instructors. But to be honest I think the key was in how you compared everything to football. It really helped me get driving in perspective
Thanks Again
Debi - Leeds
I PASSED TODAY!! the MASSIVEST thankyou ever to you Alex. Alex has been so patient, helpful and wonderful all the way and I really couldn't have done it without him, because he totally believed in me even when I didn't and achieved the impossible by helping me have the confidence to pass. I am so happy! I would thorougly recommend Alex, and will totally miss our lessons each week, we had a right laugh! He is a thoroughly nice bloke and I am going to do pass plus next. Thankyou Alex, you are a star and have helped me do something i had never thought possible for me. I will start believing in myself more now I promise! Mike is so pleased too! Best day ever and now I can drive home for my wedding to the bestest place in the world....yes Leeds!
See you soon Alex
Debsxx
Paige
I managed to pass first time with Alex with only three minors!
I really enjoyed all my lessons and felt really comfortable with alex as an instructor.
Thanks very much
Rachael
Hello! Just wanted to say a well deserved thank you to Alex for getting me through my test.Still getting used to be able to drive around on my own but its great..and my car is still in one peice I was really nervous about driving but theres no stopping me now and thats thanks to Alex.
Lynda
An incredibly long overdue thankyou for your fab teaching and getting me through the test first time with flying colours. I would recommend Alex to anybody. He is the most lovely chap and a fantastic instructor. Thanks again Alex!!
Vicky - Wollaton
Hey Alex, just wanted to say a big THANK-YOU for having the patience with me! i enjoyed our lessons so much, it's really wierd now not having any lessons on Thursdays. Every Thursday i keep thinking am sure there's something i'm meant to be doing! Still can't believe i passed first time with only 2 minors. lol. It's a week since i passed, am still keepin an eye on my speed , no fines as of yet, and hopefully i never will! Firday, the day after i passed i went to Lincoln with Rob i couldnt wait to go driving! The only bad thing about driving alone is that it's not as acceptable to sing along to your music! But anyway if anyone's reading this and wants a great driving instructor choose Alex, he's great, he's patient, friendly, never let's you down, uses a good learning techniques. I'll def reccommend Alex!!! c you soon for passplus.
cheerz from the dizzy blonde! xx
Steve - Bobbers Mill
Thank you so much for having the confidence in me that I would pass my test. Never did I have a bad lesson as at the end of each lesson the debriefing always allowed me to take positives from them. Each lesson was a joy as our sarcastic banter always put a smile on my face. Now I have passed, and with only 6 minors, I will miss the 2hour periods of "lets see how many comical jibes we can make"! I certainly never believed I could do it! An excellent instructor with an excellent temperament to match! Very good value for money. Call in for cuppa or use of our toilet any time!
Tanyel Renda
Well Alex i finally got there!! and first time!! I would like to thank you for all your help. You made learning to drive easy and i will recommend you to everyone who is thinking of learning to drive as you are an excellent driving instructor. I'll let you know how i get on driving on my own in the next couple of months!
Kevin Thompson - Long Eaton
A few months on and i aint hit anything yet!
But a fantastic instuctor who made it easy for me to pass, very recomended.
Cheers mate.
Carla
Been a few months now since i passed and its always been on my mind that i never got chance to say THANK YOU- the day i passed think i was on such a high and had to get back to work you dropped me off and was gone! Left me on my own to drive!!! Well just thought you might like to know driving is going great - No speeding fines or crashes!!! Not planning on getting any either... Ended up with a 1.6 Punto - quite a nice little thing newish too so got power stearing!!!
Im sure your glad to be rid of me now though i was quite mardy at times but just proves words of wisdom when i wanted to give up was worth it!
Thanks Alex!!!!
William Clarke
Would like to say alex is a wonderful instructor,very frindly and down to earth.I would definately recommend alex to anyone planning on taking driving lessons.Before taking lessons with Alex i had another instuctor he was very unhelpful.When i changed to taking lessons with Alex i was much happier and my driving improved thanks to Alex's tips and patience.Thank you alex for all your help.
Shiwen - China
Just say big thanks for your instructions. My study was interrupted 4+ months when I moved from Slough to Nottingham. Compared with my previous Instructor, Alex is even more professional, patient and accurate in helping me become a better driver. Thank you so much for everything, GOODMAN, I will carry on my passplus study with this guy.
Ken - Nottingham
I'm still buzzing from last Friday, thank you so much for getting me through it, one minor, still can't believe that!!! Looking for a cheap car now, got my eyes on a 1.2 Renault Clio, if you know of any cheap good cars going let me know.
Anyway just thought i'd say hi and thanks again, may see you soon for motorway lessons
Cheers for now
Ken
P.S If anyone is reading this, i would just like to say what a great instructor Alex is, patient, clear, relaxed and a good approach, I had 3 previous tests with 2 other instructors 9 years ago, did 3 weeks intensive with Alex and got one minor on my test, says it all really, so if you're wanting to learn how to drive, give Alex a call, you won't regret it, I certainly didn't.
Dee Oreilly
Alex thanks 4 everything over the last 2 wks, am still on a high! See u soon, Dee
Lisa Robinson
Hi Alex just to say thankx 4 all your help you were great thankx 4 getting me through it if i need any help i will ket you no cheers Lisa